Affordable Auto Body Offers Auto Body Repair Services You Can Count On!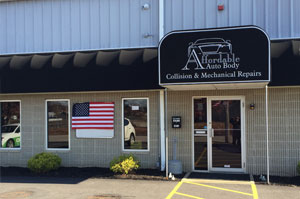 Since 1985, Affordable Auto Body has provided motorists with comprehensive auto body repair services that include 4x4 Services, Alignment, Auto Body / Paint / Refinishing Services , Brakes, Car & Truck Care, Collision Repair Services, Electric and Hybrid Vehicle , Electrical Services, Electronic Services, Engine & Transmission, Engine Maintenance, General Services, Heating and Cooling Services, Heavy Duty Repair, Miscellaneous Services, Quick Lube Services, Spray On Liners, Tires, Towing, Transmission Services and Undercar Services. Our goal is to offer the best services available at affordable prices to get you back on the road in no time.

You'll be hard-pressed to find the same level of expertise that our auto body specialists provide! We have years of experience working on both domestic and import vehicles of all makes and models and can work with you to find cost-effective repair alternatives.

Trust Affordable Auto Body with your car, truck, or van. To learn more about the services we offer, please contact us by phone at 401-736-8501 or send us an email. We also invite you to learn more about our dedication to you, our valued customer.
Vehicle Tips
Always use a detergent designed specifically for car washing. Don't use common dish washing detergent which is too strong and will remove the wax.
Always keep a good coat of wax or paint sealant on your car.
Make a habit of detailing your car. Detail your car regularly and inspect the finish.
Always use a good wax with a high Carnauba content.
You are much better off to wax your car more frequently than to try to apply a heavy coat of wax.
If you are involved in an accident don't make any public statements about who is at fault.
Keep a disposable camera with a flash in your glove box in the event you have an accident. Then take LOTS of pictures!
Be sure to remove sand and salt spray as soon as possible from your car to protect your car's finish.
Check tire inflation at least once a month. Under-inflated tires can result in a loss of fuel efficiency.
A fouled spark plug or plugged/restricted fuel injector can reduce fuel efficiency as much as 30 percent.
For maximum fuel economy, stay below 60 mph.
Don't forget to check the tire pressure of your spare tire!
Buying a fuel with a higher octane than your car requires will not boost performance.
Unlike A/C in the summer, you can run the car's heater as much as you want in the winter without effecting gas mileage.
What Our Customers Are Saying

My car looks like it did, inside and out, when I bought it off the showroom floor four years ago. Highly recommend this place.

I would highly recommend Affordable Auto Body, for all your automotive needs!

The staff was very nice, and honest.

This shop is excellent. They've repaired my car three times. Clean, friendly, responsive, professional. Lifetime guarantee on their repairs.

I have been a loyal customer for years!

I cannot say enough about how well we were treated and the excellent work they did. I highly recommend these folks - they are now my "go-to" body shop.

Not only did they complete it fast, it left the shop better than when I bought it.

Excellent work! Fast and courteous!

They did a super job on doing a spray in bed liner for my pickup, and quick as well!

Fair priced quality work.